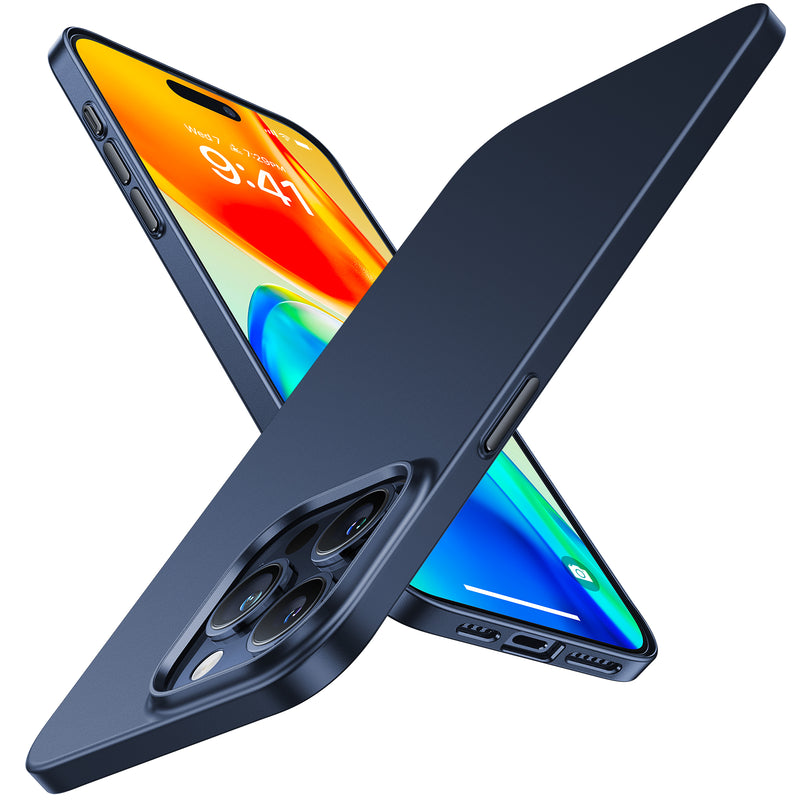 TORRAS Slim Fit Designed for iPhone 15 Pro Case 6.1 inch, Ultra Thin for iPhone 15 Pro Phone Case 2023, Lightweight Matte Hard PC Slim Thin Cases for iPhone 15 Pro Cover, Blue
$25.99
The iPhone 15 Pro slim case reads your mind and fits your needs. Its ability to protect your new iPhone 15 Pro while still enjoying the original design of the phone, allows the body of the phone to stand out. It also has a very comfortable feel. You can feel the high quality and durable material. If you are looking for a super thin phone case. It must be your best choice, stylish, durable, and high quality. How slimming it is, you will fall in love with it.
ULTRA THIN & ZERO BURDEN: Only 0.03 inches thickness and 0.65 oz feather light. Its clever designs and lightweight material certainly make a difference. TORRAS TOP Ultra Thin iPhone 15 Pro Case adopts integrated laser cutting technology. Keep the slim thin figure of the iPhone 15 Pro and won't weigh you down or add extra bulk, so you will hardly notice there is a phone case on. There is no burden on your hand, immerse yourself in simple and easy one-handed screen operation.
SLIM Yet DURABLE: The iPhone 15 Pro thin case made of a top-grade sturdy PC. The unbreakable 4 layer structure makes it slimmer yet sturdier via rapid prototyping under high temperature and high pressure. The tiny design of 1.2 mm lips over the camera and 1.0 mm bezels over the screen prevent the screen and camera from scratches. It is durable, scratch-resistant, and offers reliable protection against everyday wear and tear.
COMFORTABLE TOUCH & EASY CLEAN: Thanks to the advanced matte sandblasting process and Meticulously plated with 4 layers of nano-coatings, you can feel the amazing touch, as delicate as a baby's skin. Easier to clean and keeps you away from pet hair, dust or stains! Pocket-friendly design with a secure grip, slides easily in and out of pockets. Say goodbye to that embarrassing moment when your phone is stuck in your pocket or wallet.
WORRY-FREE AFTER SALES SERVICE: Please Check Your Phone Model Before Purchasing: ONLY for Phone 15 PRO, 6.1inch, 3 cameras, 5G 2023. The phone case for iPhone 15 pro supports wireless charging without removing the case. For receiving the wrong phone case, wireless charging problem or any unexpected issues, please feel free to contact TORRAS and take advantage of your 180-day warranty. A satisfying solution that responds within 8 hrs is promised.
Buy On Amazon