iPhone 15 Series Unbreakable Tempered Screen Protector (2 Pack)
Sale price
$34.99
Regular price
$0.00
Unit price
per
✅ Please select the right size for your new iPhone

- Military-grade shatterproof tempered glass
- Triple ion exchange technology provides above 9H hardness and longer durability
- Tora-Silk coating prevents fingerprints, scratches, smudges, etc.
- InstaFit installation tool provides effortless alignment and error-free installation
- Precise fit to the screen and edges, with highly responsive touchscreen sensitivity

Device (Please select your model)
View full details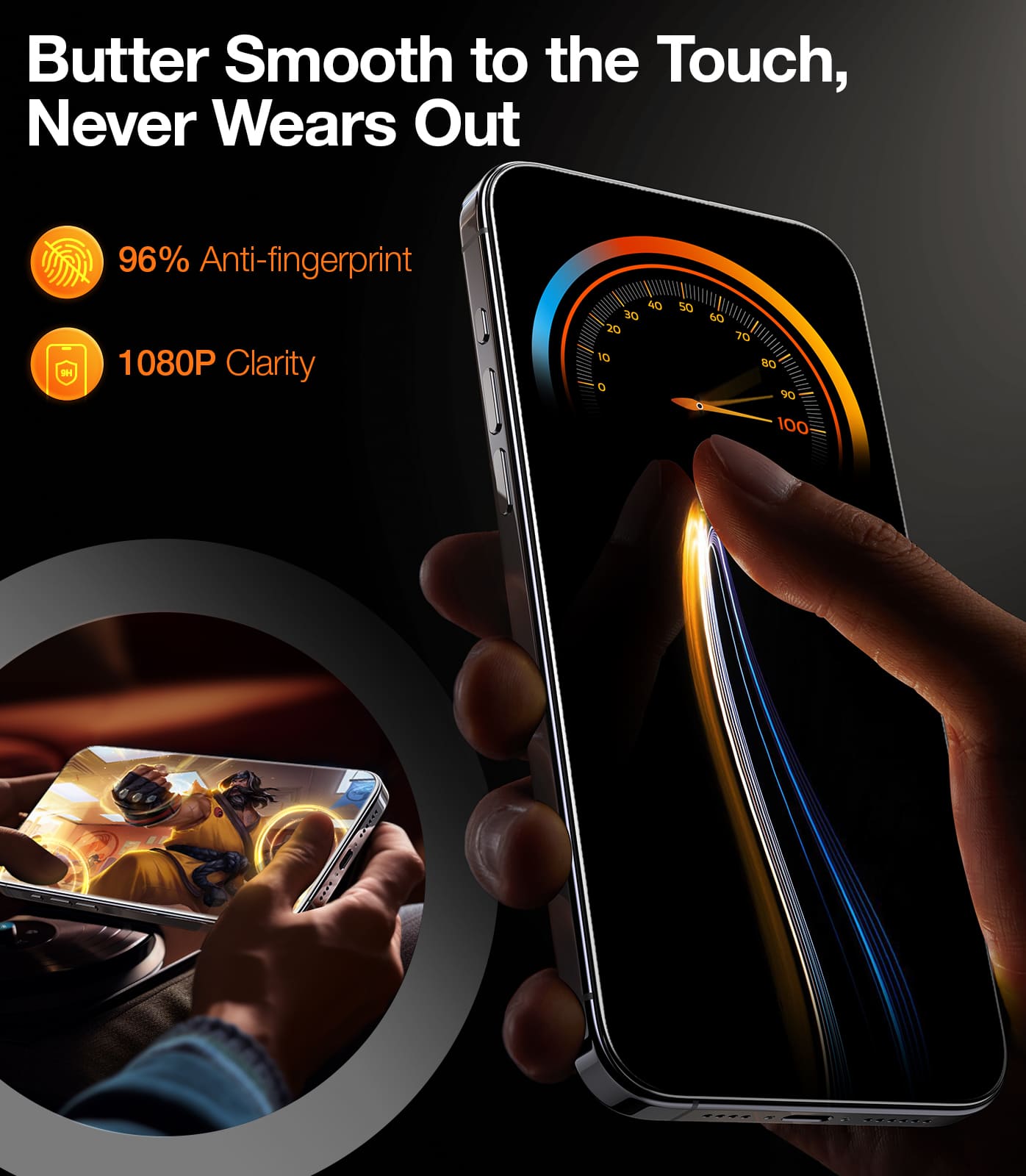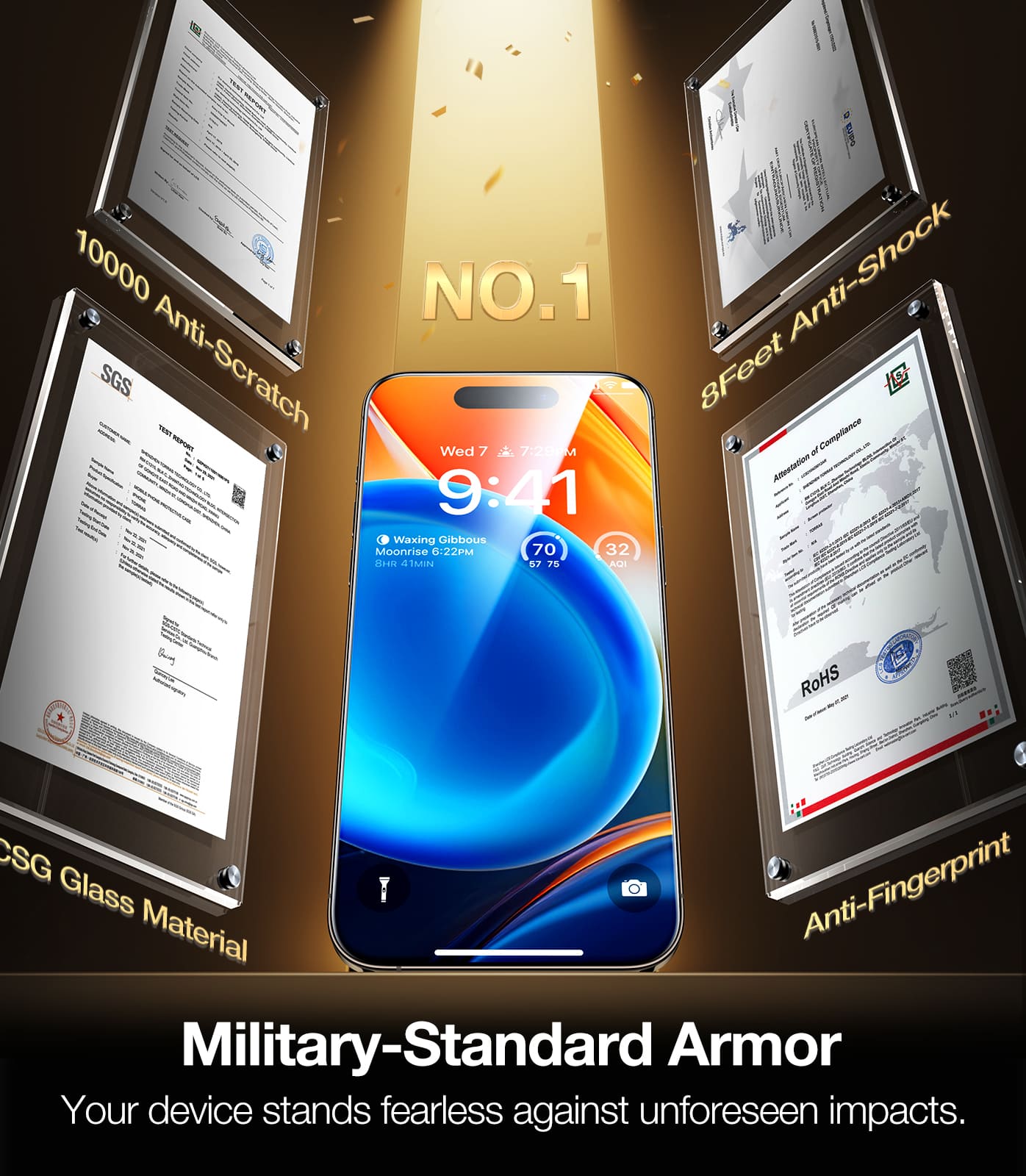 Maybe want to know more about
Our Experts Will Answer Your Questions
FAQ
Why didn't I get my order number? / No logistics updates in days.
Some products are being restocked as a result of a surprise rise in orders, and we are currently expediting warehouse procedures and restocking some products, which could cause delays in recent deliveries. Rest assured that we are working to find a solution to this problem. However, some products take longer to produce, which could result in longer shipping wait times.
Please feel free to email us at support@torraslife.com if you have not heard from us regarding logistics within 3 to 5 days. We sincerely appreciate your support and patience.
Which countries are available?
TORRAS can ship items to America, Europe, Asia, and Oceania. But POX and military addresses are not available.

How many days for shipping?
For now, 2-5 days for the US market (except air-castle case will take 7-15 days), 7-15 days for other countries. We are developing our shipping service, thank you for your support.

Warranty & After-sale & Return Policy
For quality issues that happen within 180 days, please contact us at mall@torraslife.com or support@torraslife.com. TORRAS has a perfect after-sale service and warranty policy. Please don't worry about it.
TORRAS offers a 30-day free refund for any reason, you can get your full refund back to your account. Contact us at mall@torraslife.com and we will arrange it within 2 business days.
Is it safe to pay here?
100% safe with main payment methods such as Paypal、Visa、MasterCard、America Express. More payment methods will be ready soon.
I placed the wrong item/address/phone number.
Please contact us as soon as possible when you find your information or item is wrong. We will correct the information as quickly as we can, but as there is a lot of mail from worldwide, we may not do it before the order is shipped by warehouses. Thank you for understanding.
Can I trust TORRAS?
Yes, you can totolly trust us. TORRAS has multiple categories which are popular worldwide. Our products have been reported by famous media such as Yahoo and Associated Press, and you can find many influencers reviewed our iPhone cases on YouTube. Besides, TORRAS provides perfect warranty and safe payment.
Why do I buy TORRAS iPhone cases?
TORRAS iPhone Cases have features to make your life more convenient or make using phones more enjoyable. 3X magsafe tech, Ostand or Camera stand, anti-yellowing tech for clear iPhone cases, super shockproof, waterproof, TORRAS iPhone Cases have all of them. While preventing scratches and damage to your new iPhone 15/Plus/Pro/Pro Max caused by dropped goods and collisions, you can also check files or watch movies without holding or looking down at phones.
Best
Applied without any hassle for my iPhone 15 Pro Max. Now I need the same for my Pixel 8 Pro. Sad to see it's not available.
Perfect
I am the person who prefers nothing on my phone. I don't want anything to diminish the original experience, quality and esthetic of the original design... This of course means that I have used my warranties and "protection plans" plenty of times. That said, I am impressed with this screen protector and very glad I have it. The feel, the look, it's an all flawless. And very impressed with the assembly details & parts included.
Great product!
Torras is better that everything else!!
Torras's Privacy screen protectors stand out as a superior choice among the competition. Their commitment to privacy is evident in the advanced technology embedded within these protectors, which ensures that the screen is only visible to the user directly in front of it. This feature is especially crucial in today's world, where data privacy is a top concern. Torras's protectors not only shield your screen from scratches and smudges but also protect your personal information from prying eyes. The precision engineering and high-quality materials used in their manufacturing make them a durable and reliable choice.
In addition to privacy protection, Torras's screen protectors are known for their excellent clarity and touch sensitivity. They maintain the vividness of your display and responsiveness to touch, providing a seamless user experience. Whether it's for a smartphone, tablet, or laptop, Torras's Privacy screen protectors offer a level of privacy and screen protection that is hard to match, making them a preferred choice for those who value both security and device performance.
Perfect screen
No fingerprints and no swiping. It's strong. It is the great screen!
Wonderful!
When I opened the box, the very first thing I noticed was the bright orange! Not often I open a box and smile, but that orange really made me smile! There is just something "happy" about the colour!
I really do like my screen protector - from start to finish. Like I said, it started with the orange making me feel good. I was impressed with the feel of the protector.... I have had some in the past that just felt flimsy. Not these. They were sturdy and I could tell right away they were well made.
Applying the proctors was super easy. The hardest part was actually getting all the fingerprints off my phone screen! Once clean, the protector went on like a charm. The application tool was a bonus. The directions were pretty straight forward and simple to understand and follow. Another impressive aspect was how clear it was! I have had protectors in the past that look "foggy" or "thick" - not this one. It's clear as a bell. I really like that. And the fingerprints that I am usually leaving behind don't seem to be much of an issue! I really love that!
All in all, I am very pleased, and without hesitation would definitely recommend the Torras screen protector to anyone looking to upgrade from whatever they have!