iPhone 15 Series Sparka Magsafe Shockproof Slim Case
Sale price
$29.99
Regular price
$0.00
Unit price
per
- Shock-absorbing inner liners absorb 98% of impact force
- Long-lasting clarity thanks to patented Transternity anti-yellowing technology
- Effectively resists 99.9% of yellowing agents from UV rays, sweat, stains, etc.
- Raised 0.8mm camera lip and 1.35mm screen bezel
- Built-in neodymium magnets for uninterrupted wireless charging experience
- Precise fit with secure, comfortable grip
Device (Please select your model)
View full details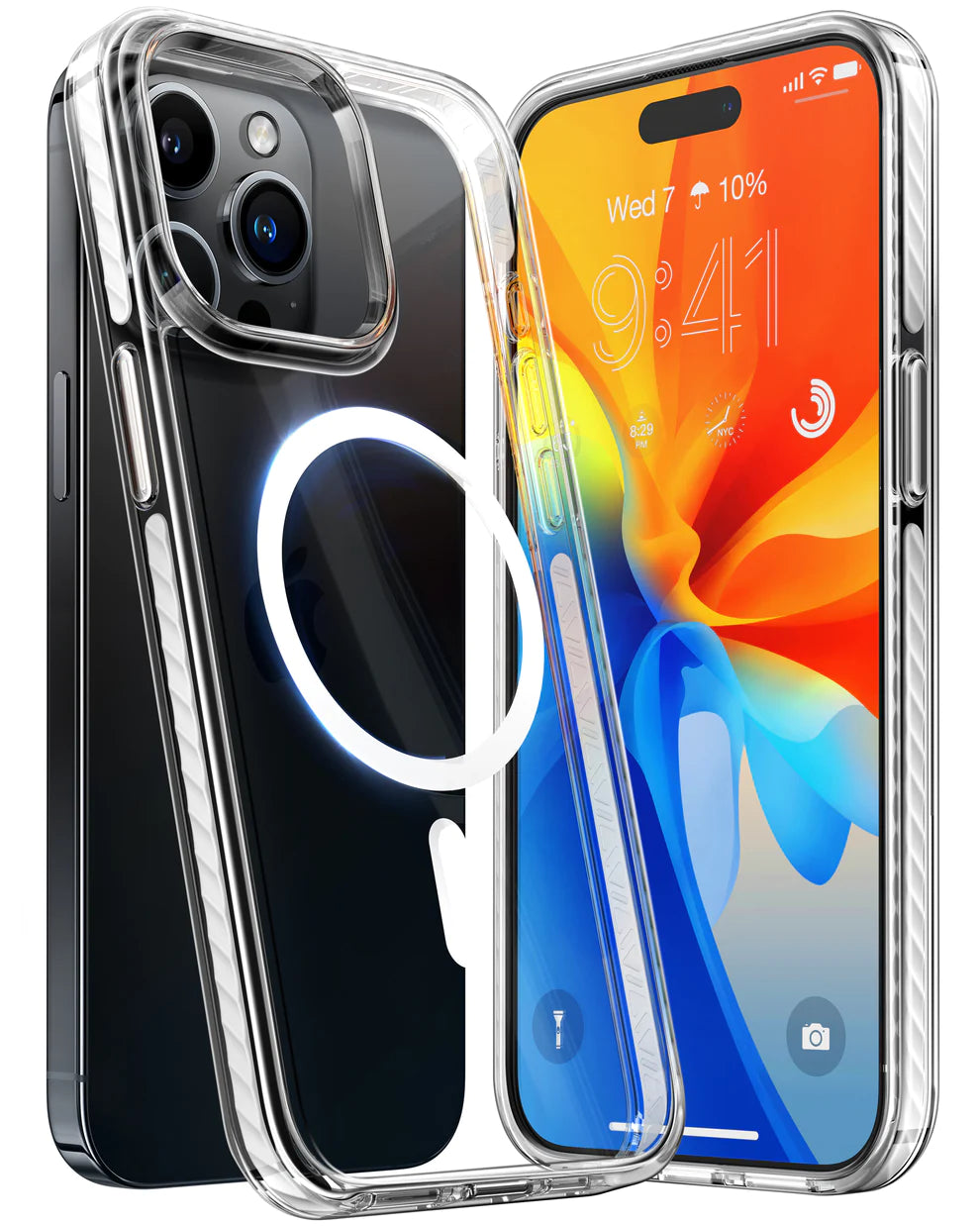 Maybe want to know more about
Our Experts Will Answer Your Questions
FAQ
Which countries are available?
TORRAS can ship items to America, Europe, Asia, and Oceania. But POX and military addresses are not available.

How many days for shipping?
For now, 2-5 days for the US market (except air-castle case will take 7-15 days), 7-15 days for other countries. We are developing our shipping service, thank you for your support.

Warranty & After-sale & Return Policy
For quality issues that happen within 180 days, please contact us at mall@torraslife.com or support@torraslife.com. TORRAS has a perfect after-sale service and warranty policy. Please don't worry about it.
Is it safe to pay here?
100% safe with main payment methods such as Paypal、Visa、MasterCard、America Express. More payment methods will be ready soon.
I placed the wrong item/address/phone number.
Please contact us as soon as possible when you find your information or item is wrong. We will correct the information as quickly as we can, but as there is a lot of mail from worldwide, we may not do it before the order is shipped by warehouses. Thank you for understanding.
Can I trust TORRAS?
Yes, you can totolly trust us. TORRAS has multiple categories which are popular worldwide. Our products have been reported by famous media such as Yahoo and Associated Press, and you can find many influencers reviewed our iPhone cases on YouTube. Besides, TORRAS provides perfect warranty and safe payment.
Why do I buy TORRAS iPhone cases?
TORRAS iPhone Cases have features to make your life more convenient or make using phones more enjoyable. 3X magsafe tech, Ostand or Camera stand, anti-yellowing tech for clear iPhone cases, super shockproof, waterproof, TORRAS iPhone Cases have all of them. While preventing scratches and damage to your new iPhone 15/Plus/Pro/Pro Max caused by dropped goods and collisions, you can also check files or watch movies without holding or looking down at phones.
How about MagSafe tech? Will my phone fall down?
TORRAS magsafe cases have super strong magsafe to prevent falling down, and they are compatible with all MagSafe accessories, including chargers, car mounts, etc.
How to clean phone cases?
Put the case in a bowl of warm water with a few drops of dish soap, and let it sit there for a while. Use a toothbrush and baking soda to gently scrub the case until all dirt is gone. Apply a magic eraser to any remaining problem areas. With a microfiber towel that has been lightly dampened with dishwater, wipe the phone down.
What is the anti-yellowing tech for clear phone cases?
Our anti-yellowing technology can against yellowing agents like stains, sweat, etc. TORRAS clear iPhone cases perform well through 168-hour SGC's anti-yellowing and aging test which is exposure to high-temperature UV lights and extremely humid environment.
How to clean silicone phone cases turn yellow?
Using a soft cloth and a paste made of baking soda and water to gently scrub the yellowed areas of your silicone phone case is one option you can try. Try soaking the case in a solution of water and vinegar for a few hours and then rinsing it with water as an alternative.
How about the quality of TORRAS iPhone case?
TORRAS iPhone cases have well-satisfied quality with our tech and strict quality control. The samples have passed hundreds of tests to make sure that they do protect your iPhone.
How about TORRAS Military Grade Protection by shockproof? & Which test TORRAS iPhone cases have passed?
TORRAS iPhone cases are reliable protection against drops up to 3.44m, which is the height of the first floor. Of course, they can function well for the drop-down from 4 feet (pocket height) and 8 feet (car height).
TORRAS iPhone cases are tested by strong shock-absorbing protection (Military Drop Test), magnetic strength, compatibility with wireless charging devices, anti-yellowing, anti-fouling, and anti-scratch tests. We highly recommend you try our cases, you will like them.